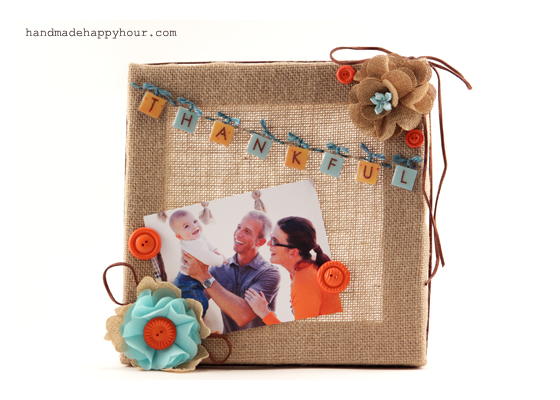 Mixed Media ~ Thankful Photo Collage
Have you seen the adorable burlap canvases for creating art? I love the texture and color for fall. This collage was so easy to put together and the perfect piece for showcasing this picture of my sister and her family!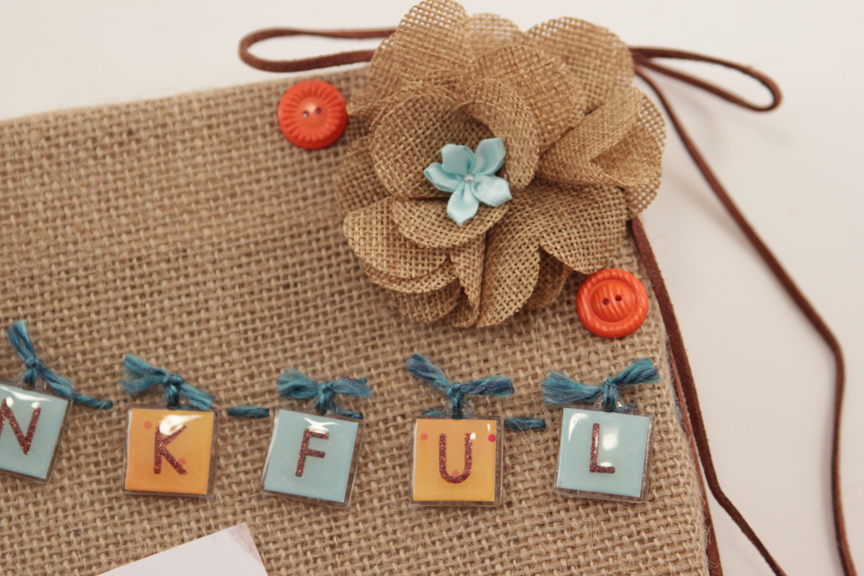 The acrylic pieces are top-coated with Mod Podge Dimensional Magic.
Materials::
What we used:
Mod Podge ® Acrylic Shapes – Basics, Flat & Charm
Mod Podge ® Gloss, 8 oz.
Mod Podge ® Dimensional Magic, 2 oz.
Fall scrapbook paper
Pencil
Scissors
Paintbrush
Letter stickers
Yarn
Needle
Burlap canvas
Hot glue
Family photo
Buttons
Silk flowers
Leather lacing
How TO::
Begin with the small square Podgeable shape. Trim fall scrapbook paper to fit the top of the Podgeable shapes. (You can use paper punches too)
Apply a thin coat of Mod Podge to the tops of the Podgeable shapes and to the back of the papers. Position the papers on the Podgeables. Smooth with your fingers. Apply a top-coat of Mod Podge. Allow to dry 2 hours.
Attach a letter stickers to the center of the Podgeable shapes. Cover the Podgeable shapes with Dimensional Magic. Begin around the outer edge and fill until the entire Podgeable is covered. Dry for 24 hours in an undisturbed and non-drafty place.
Tie yarn through the holes on the Podgeable shapes. Using the same yarn, sew a row of straight stitches through the canvas. This will be the "rope" that holds up the "thankful banner". Hot glue the Podgeables across the stitched line.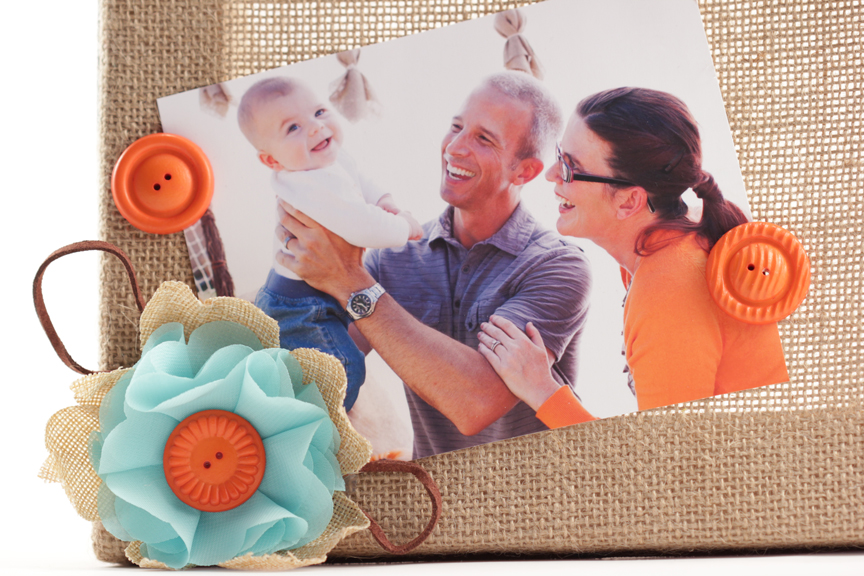 Attach the photo to the canvas by using a drop of hot glue in each corner. Add silk flowers and buttons to the design. Tie a piece of leather lacing around the outer edge of the canvas.
Tip: While the Dimensional Magic is drying don't move the pendant around or you might get air bubbles. If you do get an air bubble, use a sewing pin to pop it.
(Visited 17 times, 1 visits today)