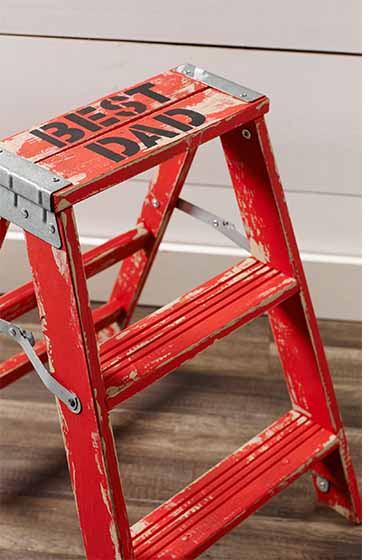 I'm that girl….. I have ladders hidden all over the house because I am just a tiny bit over 5 feet tall.  And even though I can reach most things with my ladders, I still like to bug Eddie to reach everything.  So when I saw this painted ladder…. I thought BINGO – here is one DIY design that works for both of us.  Ladder Via Plaid Crafts. EDIT POST. Unfortunately the link to the project is no longer viewable. I suspect it is because the Plaid website just had a makeover…..  So I'll do my best to explain the project.
Paint the ladder red or the color of your choice.
Rough up the paint with sandpaper.
Use alphabet stencils, painter's tape and FolkArt paint to add words across the top.
Well that is pretty easy. So grab a paintbrush and get making.
(Visited 70 times, 1 visits today)