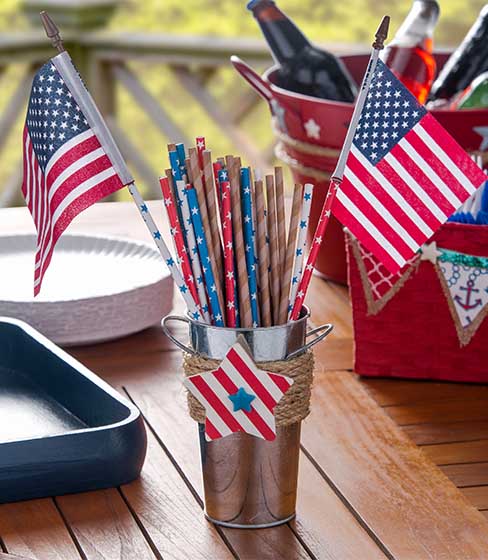 In case you haven't seen…. paper straws are all the rage. ((wink wink)) With a little Mod Melt and Rope you can easily make a quick paper straw holder. This one we designed for the 4th of July!
Supplies
Wood star
Pencil
Scrapbook paper
Scissors
Paintbrush
Metal mini tub
Rope
Heavy-duty rope
Mod Podge Gloss
Mod Melter
Mod Melts – Colors
Mod Melter – Sea Glass
Mod Molds – Trinkets
Instructions
Trace the wood star onto the back of scrapbook paper. Apply a coat of Mod Podge Gloss to the top of the wood star and the back of the paper cut-out. Place the paper cut-out onto the star. Smooth with your fingers to remove any bubbles. Allow to dry for 15 minutes. Top-coat with a layer of Mod Podge and allow to dry.
Create Mod Melt embellishments by heating a Mod Melt stick in a Mod Melter or high temp glue gun, fill a mold with the Mod Melt, allow to cool, remove from the mold. Use detail scissors to trim away an excess melt from around the design. We used a blue Mod Melt stick and the star shape from the Trinkets Mold for this design.
Using Mod Melt, glue the star embellishment to the center of the wood star.
Using Sea Glass melts and a Mod Melter, hot glue rope around the mini tub. You can add as many rows as you wish. Glue the star to the center of the rope.
TIP: No Rope? Don't worry, you can glue, twine, ribbon or yarn around the mini tub.
SaveSave
(Visited 64 times, 1 visits today)