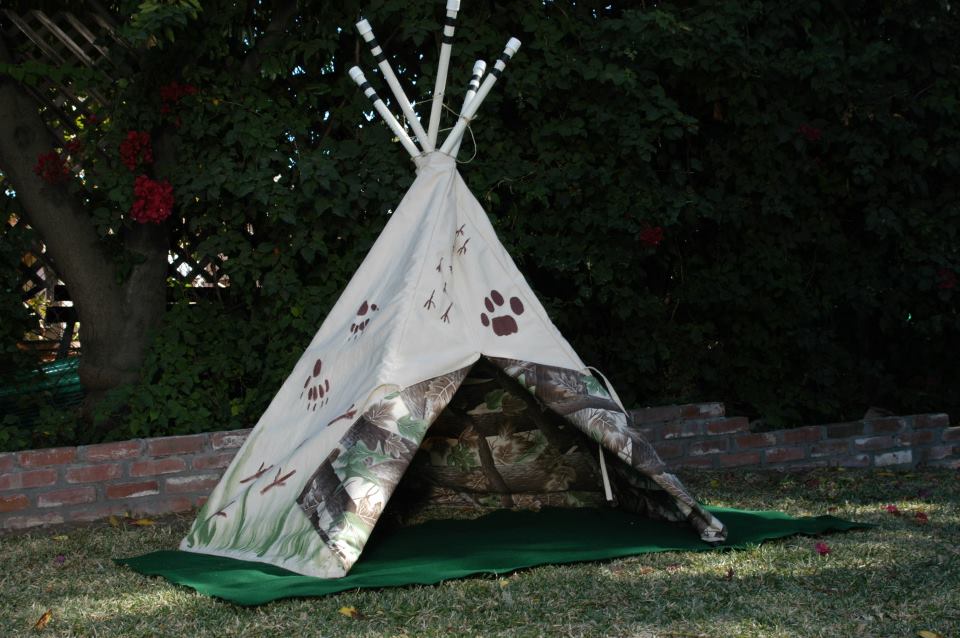 The whole gang will love this mini teepee that's perfect for your kids' room or backyard. For this design we used an outdoor adventurer theme. To achieve our look we used a lining fabric that was printed with trees and leaves. On the outer fabric we hand painted tall grass and animal tracks.
Supplies:
Teepee pattern, we used "Terrific Teepees" available at www.sewbaby.com
Canvas
Coordinating lining fabric
Sewing machine
Thread
Heavy-duty sewing machine needle
Masking tape
Measuring tape
Five 66 ½" lengths of ¾" diameter PVC pipe
Drill
Five ¾" PVC end caps
Five crutch tips
Electrical tape (optional)
Acrylic paint and textile medium (optional)
Steps:
1. Follow the instructions for sewing the teepee that are provided with the pattern.
2. To make the channels for the teepee poles, you will need to make a French seam. With the lining already stitched to the outside layer at the top and bottom of each panel, lay two panels together, lining sides together.
3. Mark and cut the corner at the bottom of the channel, on a diagonal 2" from the side and 2" from the bottom.
4. Pin the two panels together. Sew together with a ½" seam allowance. Use a heavy-duty needle. Remove the pins.
5. Flip the panels so that the exterior canvas fabric layers are facing one another. Re-pin the panels together. The first seam will now be enclosed. Use a piece of masking tape to mark a 2" guide on your sewing machine by measuring 2" right from the needle. Use this guide to stitch the panels together with a 2" seam allowance. Remove the pins.
6. Mark 10" from the end of each pole. Drill a hole at each mark. Drill an additional hole, also 10" from the end, and ¾" across from the original hole on each pole.
7. Put PVC caps on the end of each pole at the end with the drilled holes.
8. Feed the poles through the sewn channels with the uncapped end of the poles leading so that these will be at the bottom of the teepee.
9. Add crutch tips to the bottom ends of the poles. These will prevent slipping.
10. Spread out the teepee poles and thread twine through the drilled holes, connecting the poles. Splay out the poles and tighten and tie the poles together. Wrap the top of the teepee poles with additional twine.
11. Add stripes to the poles with electric tape. Add painted decoration to the teepee with acrylic paint mixed with textile medium, if desired.
(Visited 30 times, 1 visits today)