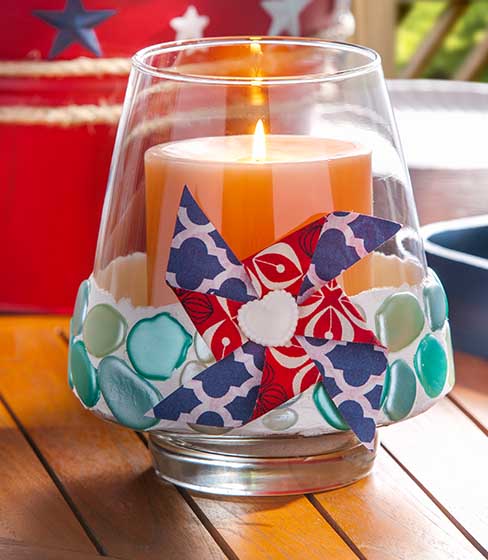 Steve and I love making faux beach glass with Mod Melts and the Mod Melter.  They are so easy to amok and then we just paint them with beach glass colors.  For the melts we just pool them up on the Mod Pode Craft Mat and then peel them up when they are cool.
Supplies
Mod Melter
Mod Melts – Beach Glass and Sea Glass
Mod Molds – Trinkets
Craft Mat by Mod Podge
Collage Clay
FolkArt Acrylic Paints:Aquamarine, Blue Topaz and Ice Blue
Glass candleholder
Paintbrush
Plastic spoon
Scissors
Nautical fabrics (2 prints)
Instructions
Make random shaped faux beach glass by squeezing hot Mod Melt – sea glass onto the craft mat in oval and beach glass shapes. Allow to cool. Paint each one a solid color using Aquamarine, Blue Topaz and ice Blue.
Using the back of a plastic spoon, apply a thick coat of Collage Clay to the base of the candle holder. (work in small sections) Press the painted sea glass into the Collage Clay. Continue around the entire base and allow to dry.
Make a small fabric pinwheel. Cut two 6" x 6" pieces of fabric. One from each print. Using fabric Mod Podge as a glue, glue the two pieces together and allow to dry for 3 hours. Make sure you glue them wrong sides together.
Once dry, trim the fabric square to 5"x5". Cut a diagonal slash at each corner. Stop 1" before the center. Using Mod Melt as a glue, attach each left corner to the center. This will form your pinwheel shape.
Create Mod Melt embellishments by heating a Mod Melt stick in a Mod Melter or high temp glue gun, fill a mold with the Mod Melt, allow to cool, remove from the mold. Use detail scissors to trim away an excess melt from around the design. We used a large heart from the Trinkets Mold for this design.
TIP: Cooled Mod Melt peels cleanly and easily from the Mod Podge craft mat!
SaveSave
(Visited 122 times, 1 visits today)