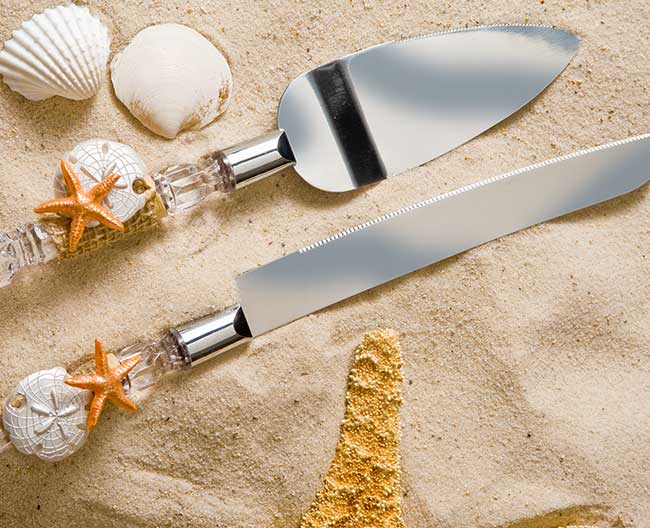 DIY Wedding Cake Server Set!
For this beach bride cake serving set we started with a plain wedding cake server and embellished it with burlap ribbons and Mod Melt seashells. To create a custom look or to tie this look to your wedding just add a bow that matches your color pallet.
Materials:
Paintbrush
Cake serving set
Burlap Ribbon
Hot Glue
Raffia twine
Mod Melts – Milk Glass
Mod Molds – 25121 Sea Life
FolkArt Acrylic Paint – 2888 Mandarin Satin
FolkArt Acrylic Paint – 2480 Royal Gold
FolkArt Acrylic Paint – 659 Pearl White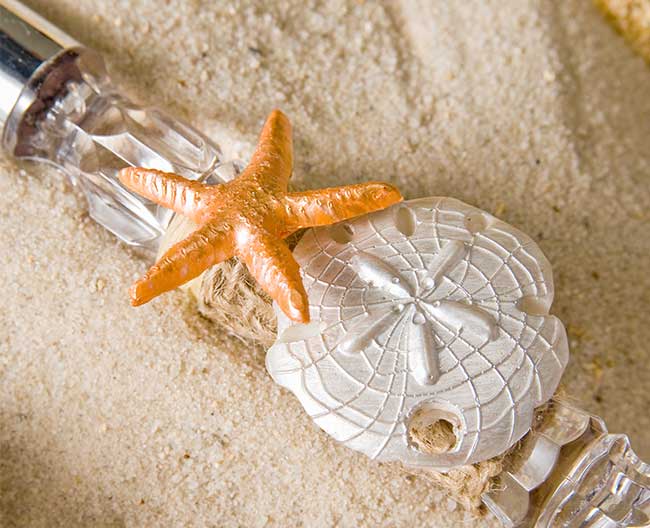 Steps:
1. Make the 2 starfish and 2 sand-dollars by heating a Mod Melt stick in a mini high temp glue gun. Squeeze the hot melt into the mold and fill to the top. It will self level. Wait 7 min. and when cool pop out. Trim around the melt if you have any rough edges.
2. Paint the two starfish with Mandarin Satin. Use two coats if necessary. Once dry lightly paint the very top with a few taps of Royal Gold. This will add depth to the starfish.
3. Paint the two sand-dollars with Pearl White paint. Use to coats if necessary.
4. Hot glue burlap ribbon around the handles of the cake set. Using raffia tie the sand-dollars to the handles. Attach the starfish with hot glue.
(Visited 34 times, 1 visits today)