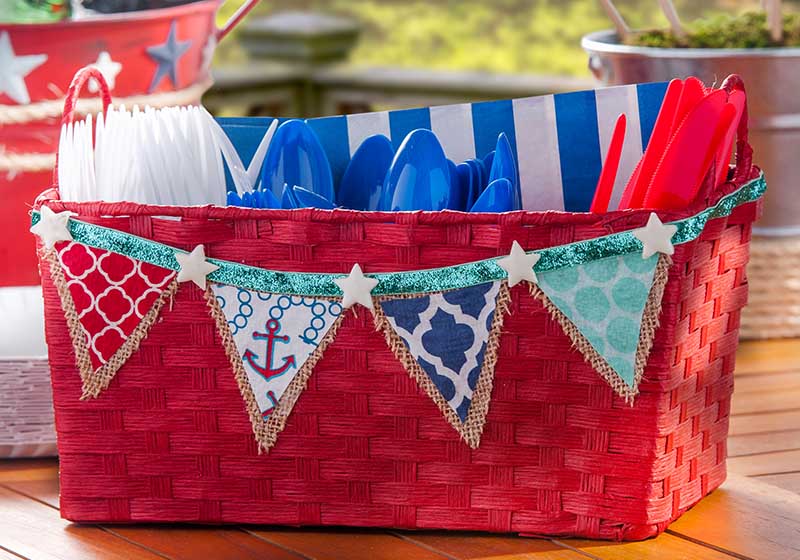 I am beginning to think there isn't anything I haven't added Mod Podge to.  I mean seriously, here I have altered a utensil caddy for the 4th of July using Mod Podge. The stars are little star Mod Melts from our Trinkets tray and the banner is attached with Fabric Mod Podge.
Supplies
Mod Melter
Mod Melter – Beach Glass and Sea Glass
Mod Molds – Trinkets
Utensil caddy
Scissors
Burlap
Nautical fabrics,
Fabric Mod Podge
Paintbrush,
Ribbon
Instructions
Cut 4 pennant flag shapes from burlap fabric. They should fit across the front of the caddy. Cut 4 smaller flag shapes from the nautical fabrics.
Using Fabric Mod Podge as a glue, attach the burlap flags across the front. Glue the nautical flags over the burlap pieces. Allow to dry.
Using a Mod Melter and Sea Glass Melts, attach the ribbon across the top of the flag pieces.
Create Mod Melt embellishments by heating a Mod Melt stick in a Mod Melter or high temp glue gun, fill a mold with the Mod Melt, allow to cool, remove from the mold. Use detail scissors to trim away an excess melt from around the design. We used 5 stars from the Trinkets Mold for this design.
Attach the melts across the flags using Mod Melt as a glue.
TIP: Paint your caddy! Can't find a caddy in the base color you want? Just paint it with FolkArt paints.
SaveSave
(Visited 59 times, 1 visits today)