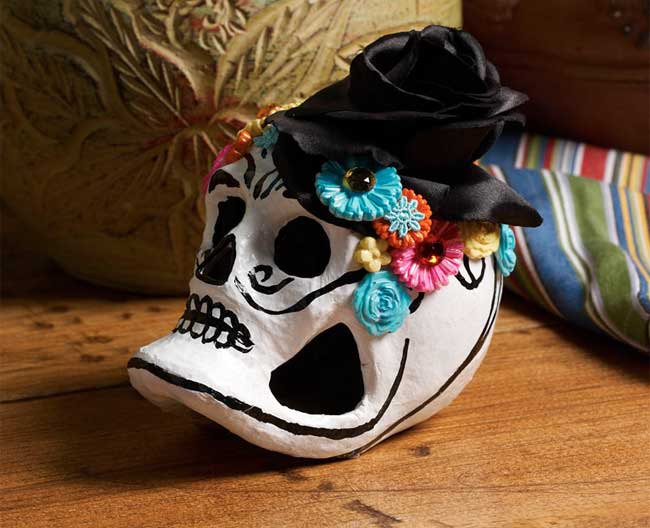 Painted Day of the Dead Sugar Skull
Have you seen the adorable little papier-mâché skulls at the craft store? They are perfect for a makeover. You can make them spooky, elegant or give them a little Day of the Dead paint job. Add as many embellishments as you wish.
Supplies
Papier-mâché Skull, FolkArt paints, Mod Melts, Mod Molds – Flowers, Scissors, Foam paintbrush, Detail paintbrush, Gems, Gem glue, Large black silk flower, hot glue
Instructions
Cut a hole in the top of the skull for the flower to sink into.
Paint the skull with Wicker White paint. Use two coats for complete coverage.
Add details and highlights with Pure Black paint and a detail paintbrush. Paint swirls and lines. Outline the eyes, nose and teach areas.
Create a handful of Mod Melt flowers by heating a Mod Melt stick in a high temp glue gun, fill a mold with the Mod Melt, allow to cool, remove from the mold and paint with FolkArt acrylic paints. We used: Parisian Pink, Lemonade, Pure Orange and Calypso Sky. Top-coat the Mod Melts with Mod Podge Hardcoat. Once dry, glue gems to the centers of the flowers.
Hot glue the flower into the hole cut in step 1. Holt glue the Mod Melt flowers around the edges of the flower.
Tip: Add glitter! Top-coat the skull with Mod Podge sparkle to create a glitter finish.
SaveSave
(Visited 51 times, 1 visits today)