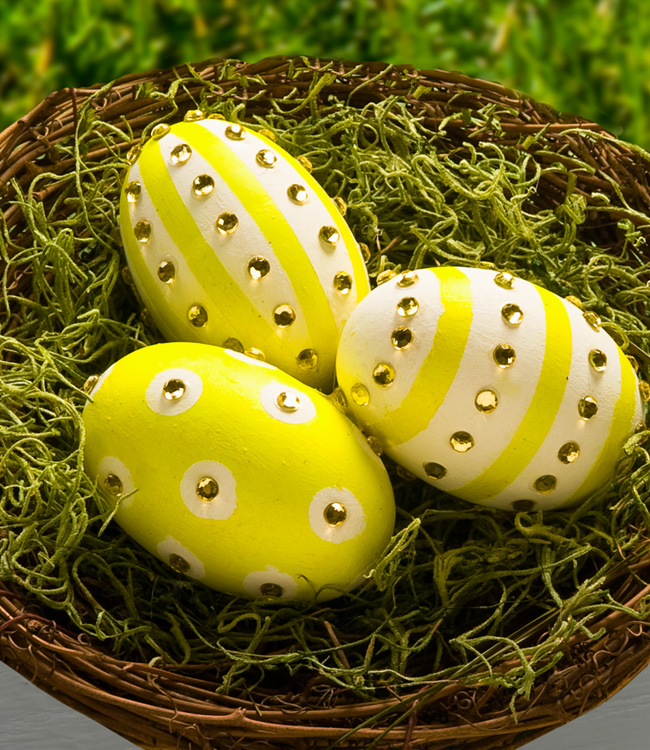 Easter eggs don't have to be pastel colored! Go bold with neon paints, geometric patterns and gems. I have always been a fan of decorated Easter Eggs. I love dyeing real eggs with my girls…. and they love it too. I also love decorating wood, styro and papermache eggs or what I call "everlasting eggs." These were so simple to make and the masking tape does all the work for you.
Supplies
Easter egg shape (wood or real)
Foam paintbrush
FolkArt Warm White
FolkArt Neon Yellow
Narrow masking tape
Wide masking tape
Circle punch
Gems
Gem glue
Nest
Moss
Hot glue
Instructions
1. Paint the eggs with three coats of Neon Yellow paint. Allow to dry.
2. Apply tape to the egg to mask off areas for painting patterns. Create a dot pattern with making tape punched circles. Create a stripe pattern with strips of narrow masking tape.
3. Paint over the egg and masking tape with Warm White paint. Allow to dry and remove the tape to reveal the design.
4. Apply gems to the eggs with gen glue and allow to dry. Hot glue a palm-full of moss to the center of the nest. Hot glue the egg into the nest.
PROJECT TIP: When using gem glue on small items, use the end of the Hot Glue Gun Helper Paddle to place small amounts of glue just where you want them.
(Visited 34 times, 1 visits today)